ACO USA Metal Finishing Plant is Certified to ISO 9001:2015 & AS9100D
At ACO, solely the metal finishing department is certified as it is run as its own business. We provide metal finishing services that are qualified and certified under ISO 9001:2015 & AS9100D. This is currently the only portion of ACO that falls under ISO and AS9100D.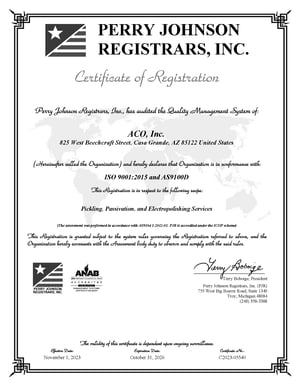 The location of the Metal Finishing Department is in the Casa Grande ACO location at Building 2.
Supplier Terms and Conditions:
ACO shall establish clear and documented agreements with external providers, outlining the terms and conditions of the relationship. These agreements shall include, but not be limited to:
Quality and performance expectations.
Delivery schedules and lead times.
Pricing and payment terms.
Non-disclosure and confidentiality agreements where applicable.
Responsibilities for inspection, testing, and acceptance of products or services.
Applicable regulatory and legal requirements.
Dispute resolution mechanisms.
Termination clauses.
External providers shall be held accountable for their performance in accordance with established agreements. ACO shall monitor and measure supplier performance and take appropriate actions, including corrective actions, when performance does not meet specified requirements.
As by the AS9100D standards, ACO shall communicate to external providers its requirements for:
the processes, products, and services to be provided including the identification of relevant technical data (e.g., specifications, drawings, process requirements, work instructions);
the approval of:

products and services;
methods, processes, and equipment;
the release of products and services;

competence, including any required qualification of persons;
the external providers' interactions with the organization;
control and monitoring of the external providers' performance to be applied by the organization;
verification or validation activities that the organization, or its customer, intends to perform at the external providers' premises;
design and development control;
special requirements, critical items, or key characteristics;
test, inspection, and verification (including production process verification);
the use of statistical techniques for product acceptance and related instructions for acceptance by the organization;
the need to:
implement a quality management system;
use customer-designated or approved external providers, including process sources (e.g., special processes);
notify the organization of nonconforming processes, products, or services and obtain approval for their disposition;
prevent the use of counterfeit parts (see 8.1.4);
notify the organization of changes to processes, products, or services, including changes of their external providers or location of manufacture, and obtain the organization's approval;
flow down to external providers applicable requirements including customer requirements;
provide test specimens for design approval, inspection/verification, investigation, or auditing;
retain documented information, including retention periods and disposition requirements;
the right of access by the organization, their customer, and regulatory authorities to the applicable areas of facilities and to applicable documented information, at any level of the supply chain;
ensuring that persons are aware of:
their contribution to product or service conformity;
their contribution to product safety;
the importance of ethical behavior.